It's common knowledge by now that Fallout 76 was a huge flop. However, even I was surprised to see just how little the game seems to be valued by Polish retailer X-Kom. Their website has a bundle which includes a set of four pairs of PS4 controller thumbsticks and a copy of Fallout 76 for the PS4. The price of the bundle (which is currently live on the site but unavailable) is roughly $70, which is the price of the two items bought separately. That all seems perfectly normal, but the story doesn't end there.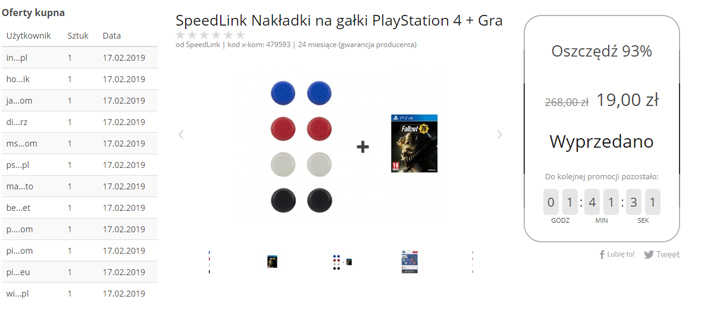 Polish website GRYOnline posted a screenshot of the bundle while it was still available, and unlike its current listing, the price was cut to the equivalent of about $5. That's the same as the price of the thumbsticks sold on their own, meaning they were effectively giving away Fallout 76. Why would X-Kom do such a thing? Well, according to GRYOnline the idea was actually posted on Facebook and X-Kom, seemingly trying to rid themselves of stock, picked it up.
To make matters more embarrassing for Bethesda, this isn't even the first time the game has been given away with PS4 paraphernalia. In fact, you could say this Polish event was an invasion from the German market. According to a Reddit post early this month, Gamestop Germany was giving away a free copy of the game with any purchase of a used PS4 controller. Similarly, another Reddit post revealed a store called Media Market was giving away the game with the purchase of 2TB PS4 hard drives in Germany.
All this makes it seem as if stores are having trouble getting rid of their stock of the game. Unsurprising when you consider the well deserved reception that Fallout 76 received. Such events simply add to the ever increasing list of headlines showcasing what a train wreck the latest Fallout has been for Bethesda.